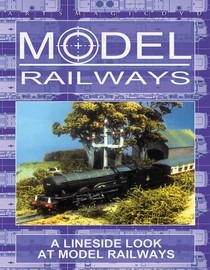 I watched a charming DVD this evening called A Lineside Look at Model Railways:
2009

NR

50 minutes




Whether you like building model railroads or simply enjoy exploring trains, you'll relish celebrated railway enthusiast Bob Symes's guided tours of an impressive range of model train layouts, including Borchester Market, Chiltern Green and High Peak. In addition to revealing the details and workmanship of each model railway display, the program includes tips for constructing line-side furniture and scenic features.

Cast:

Bob Symes, Shirley Rowe
I say 'charming' as a completely sincere reaction to such a gentle and straightforward introduction to the hobby of model railroading. It helps that Bob Symes lilts with the quintessential calm British documentary presenter's cadence and inflections that can enthusiastically explain anything from cheese production to nuclear winter with an even, yet understatedly encouraging tone. The video made me want to be a model railroader almost as much because of the activity itself as for the amazingly reserved layout owners I would get to hang out with.
I can't fail to mention that almost every man wore a tie and the few ladies in the production were in their Sunday best with very nicely manicured hands and tastefully selected jewelry.
This is, though, what tickled the 'charm' reaction from me.
There is a connection between the British proper-ness and poise of the participants that blankets the model layouts in the show as well. None of the layouts portrayed trash heaps, industrial blight nor seedy streets. Most were of the very well-kept English countryside of gentle rolling greens and nicely maintained hedgerows and fence lines. Even the seaside venues were of orderly fashion and subjects. Very civilized and all that, pip, pip.
I suppose I'm not surprised at all that there is such a consistency in thought, mannerisms, approach to the hobby and end results, but I did take pleasure in recognizing and feeling it in the fantastic fifty minutes of earnest, innocent and matter-of-fact overview of the state of British model railways c1980.
I just added another Bob Symes production to my queue:
How to Build a Model Railway
, which I fully expect to tickle me in the same odd, but satisfying and completely wonderful way. I'll spare you a review of that one, but do picture me in 2-3 business days sitting in my living room being charmed, impressed and mesmerized by the talents of British modelers from about 30 years ago. It might not be inaccurate to visualize the scene with me in a sweater vest and tie and with a half pint just within my comfortable reach, but I'll deny it if anybody asks.